Welcome to Kentfield Kennels
We are Ted & Laurie Soloski, owners of Kentfield Kennels Labrador Retrievers, a small hobbyist kennel located in the beautiful countryside of Sebastopol, California, just 1 hour north of San Francisco.
Here at Kentfield Kennels we are firmly committed to breeding the traditional English Style Labrador Retriever that will become your best friend, a loving family member, hunting companion, service dog, or will be out there competing in one of the many events you can enjoy with your dog.
What we wish to produce is a substantial, medium sized dog with a good bone structure, strong muscles, a broad head and muzzle with wide set eyes that have a kind expression.  A great double coat to keep out the cold and that thick traditional otter tail that is carried straight and flat from the body is our goal in each breeding. We want our females to weigh approximately 55-65 lbs, and our males to weigh around 65-80 lbs.
All of our puppies are registered with the American Kennel Club, micro-chipped and enrolled in the AKC ReUnite program before they go into a new family home.  This service is included in the purchase price of your puppy.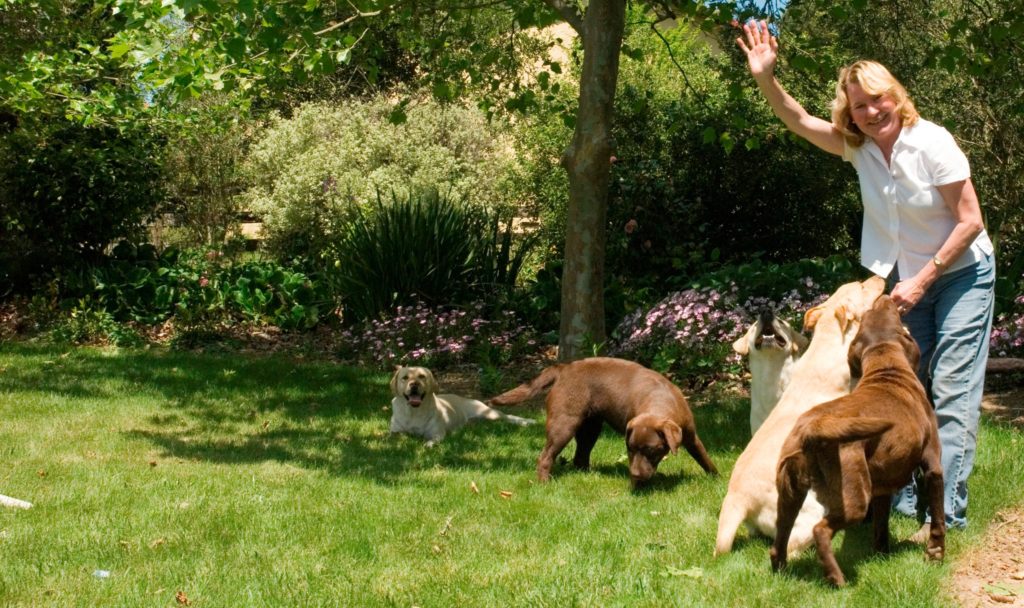 What makes us different
The Labrador Retriever is a loving, affectionate and patient dog. They are highly intelligent, quick to learn, lively, good-natured and love to play, especially in the water! We wish to breed into our dogs the excellent, reliable temperament that is sociable, friendly, loyal and above all else, great with children and other pets.  In the years that we have been breeding Labradors we have been working to carefully selecting our sires and dams to better the next generation in temperament and back to the traditional Labradors of the 1950 & 60.
AKC inspectors tell us all the time how much they like coming to our kennel because of how clean it is!
Our girls are currently DNA tested by Embark, one of the only genetic testing company's that test our dogs for over 170 genetic defects that can be inherited. Click HERE to see all named genetic test from Embark that are done on our Labradors. Our goal is to have our dogs "Clear" of all inherited defects.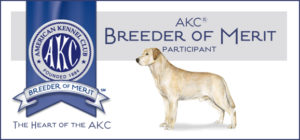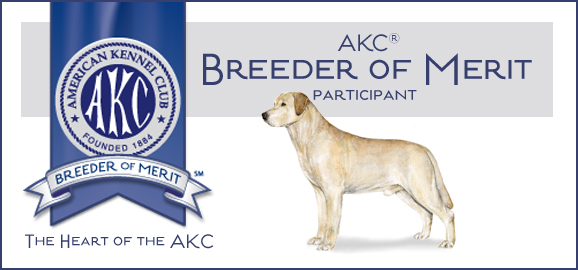 "As an AKC Breeder of Merit participant, you set the standards for all breeders everywhere. You are among an elite group whose love for dogs is unwavering; and it carries through in all you do as a breeder and dog owner. The AKC is proud to have you represent the largest, and most respected registry in the world!"

Dennis Sprung
President & Chief Executive Officer of the American Kennel Club
"As part of AKC's century-long commitment to advance the health and welfare of all dogs, the AKC has a new program called Bred with H.E.A.R.T. The program gives AKC a new way to engage, encourage and recognize ALL breeders who meet specific health testing standards and who participate in continuing education. 

akc.org