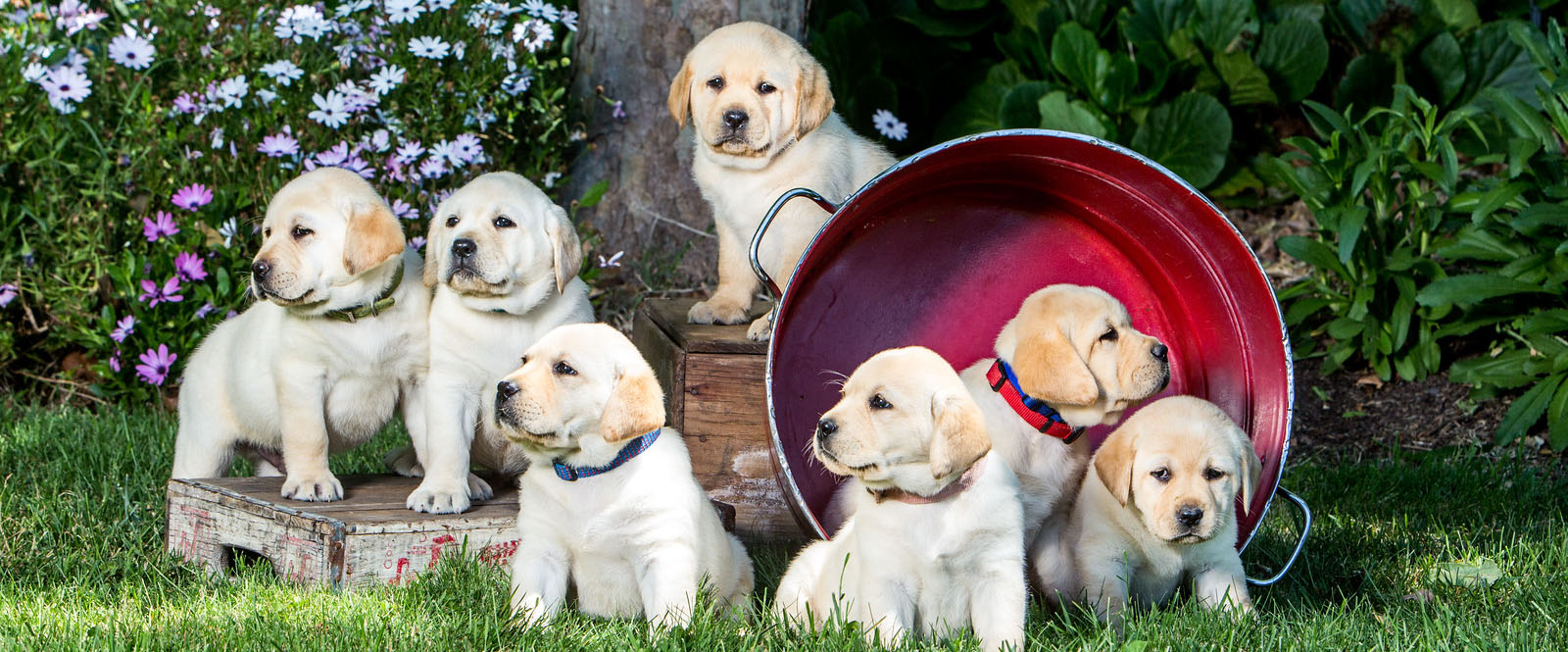 Through the years of practicing selective breeding, our puppies have been developed to have a calm, easy temperament that is true to the breed. They are quick to learn and have the traditional good looks of the AKC Labrador Retriever. They are happy, tail wagging, face licking bundles of joy.  
Our breeding program is tailored to more of the English style Labrador rather than the American/Field style Labrador but we do have some of both styles of dogs,  temperament is the most important thing we are breeding for and then the great looking Labradors too. We require all clearances from any stud dog we use with our girls, including OFA Hips, Elbow, Heart, EIC, HNPK, Optigen eye clearances and more. Most of the stud dogs we use with our girls are Show Champions, or the son of Show Champions. We have found that using a dog that has titled in the show ring gives us the temperament and good looks we are always looking for. A show dog has to have patience, confidence and like people to compete in a show ring. They are touched, prodded, probed and mouths opened by hundreds of strange people on a regular basis. If they can not tolerate this attention they usually will not qualify and title as a Show Champion.
We prefer our dogs to weigh between 50-65 lbs for the girls and 65-80 lbs for the boys.
Our puppies are well socialized beginning at day 3 after they are born. We incorporate a method called the "Super Dog Program" that is used to develop a confident, smart, ready to learn puppy and dog. We also puppy test our litters to see what puppy will be successful as service dogs, hunting companions and most important a great family pet before they go to their new family.
Our Started Puppy Training Program will work with clients that don't want to do the baby puppy raising. We will help pick a puppy from one of our litters and keep it here at our kennel until the puppy is 4 months old.  During this time we will crate train, leash work, sit and wait for food, socialize with other dogs, etc..  We do recommend clients look for a dog trainer they can work with in their home and with their family before the puppy comes to live with you full time. We do charge a weekly fee for this service.
Kentfield Kennels breeds the three recognized American Kennels Club colors of the Labrador retriever: Black, Yellow and Chocolate.
We do keep at least one puppy from each litter to continue our pedigree line. We also have opened  a new kennel in Oklahoma with our son Jake as kennel manager and lead trainer. Some of these pick of the litter puppies are also placed in our Foster Dog Breeding Program.   We also have sister kennels that we are fortunate to work with and bring some of their puppies into our training program.
All of our puppies/dogs are sold with AKC Limited Registration. We do not sell breeding stock.
Our puppies go home at 49 days old, or 7-8 weeks old.  All of our puppies are registered with the American Kennel Club, micro-chipped and enrolled in the AKC ReUnite program before they go to a new family home.  Our puppies also will have their first puppy shot at 7 weeks old and will be on a worming schedule and flea treatment.  We do not remove dewclaws.  This service is included in the purchase price of your puppy.  A written guarantee,  and the basic schedule of sleeping and feeding that the puppy has been raised on will also be some of the information in the puppy packet we send home with new family's.
Occasionally  we have older puppies available and retired girls from our breeding program.  We don't keep a waitlist for these older puppies and retiring girls.  Please check back often to see if we have something available.  We also post available older Started Puppies on our Started Puppy Training Program page,  look under Trained Puppies available.
The Labrador Site:  Helpful information to guide you in your puppy search
Complete guide to Labrador Puppies          LABRADOR TRAINING HQ!
We do have a few requirements for placing our puppies:
We interview all prospective buyers to ensure that the home and environment will be a good one for the puppy as well as the family. We are always available by email for your questions & concerns regarding the puppy's health, welfare and upbringing.
Deposits are put down early on our litters and many times before they are born. Once we receive deposits we start turning away potential buyers, therefor the deposit is non-refundable.
Enclosed yard: We do not place our puppies in homes that have no way of containing a puppy/dog on your property.
Apartment/Condo living: It is possible with a dog walking service, yet we need to discuss this arrangement.
Families with a new baby: If this baby is your first child, it may be best to wait a year or so. First babies are very special, as are first puppies. Each should be given 100% of your time and attention in their first few months.
If interested, please fill out the Puppy Application
Shipping Puppies
We can and do ship puppies all over the United States, Canada & Mexico. We request direct, non-stop flights where possible. We will ship from San Francisco International Airport and Sacramento International Airport.
General Airline Requirements:
Puppy must be at least 8 weeks old,  we prefer to ship puppy's at 9 weeks
Puppy must have Veterinary Health Certificate
Temperature restrictions may apply with some airlines, to hot or too cold air temperature will stop airline from accepting pets on a flight
Cost of Shipping via airline:
Veterinarian Health Certificate  ($98.00  2018 cost)
Crate/Kennel to ship dog  ($80.00 depending on dog size)
Airfare is determined by weight of puppy & crate  ($300-$500)
If you would like to ship your puppy we will need the following information:
Your full name on your I.D.  You will need to show this I.D. at the airport cargo desk when you pick up your puppy.  Airline Cargo is usually located in a different location than the Airline terminal.
A backup person's name & I.D. in case of an emergency and you are unable to pick up your puppy
Your physical address, no PO Box is accepted
Your phone number that you can be easily reached
The name of the COUNTY you live in
The name of the airport you prefer to ship your puppy to, we prefer to book non-stop overnight flights when possible